Coffee Smoothie
a nutritious plant-based/ vegan recipe 
perfect for summers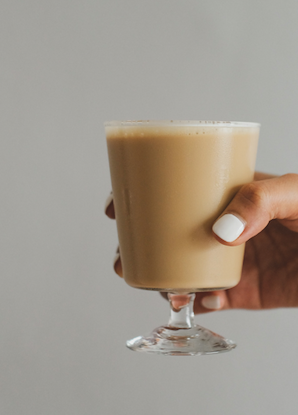 Make chilled, vegan coffee smoothie with this easy recipe (no dairy, no refined sugar): 
Recipe serves 2
Ingredients : 
• 1 cup or 250 ml water
• 30g or 2 tablespoons of TNB Plant milk base
• 60 ml coffee decoction
• sweetener of choice. we recommend 1 tablespoon of date syrup
• 1 medium ripe banana (frozen banana for extra creaminess)
• 4 ice cubes
• optional : 1 teaspoon of chia seeds
Method : blend all the ingredients until smooth. Serve chilled.
Benefits of this beverage : 
• Almonds and Coconut in plant milk base are loaded with nutritional benefits and also help with satiety. These are great for hormone health, too.
• Banana helps with digestive issues and is one of the best natural sweeteners along with dates (fiber rich)
• Chia seeds are a rich source of protein.


No preservatives. No additives. No artificial flavours/ colours. No-fillers. No gums/ starches. No gluten.
Real, good and honest ingredients make food that boosts mood and energy in a natural and sustained way. 
Enjoy sustained energy and healthy lifestyle with our breakfast and snacks that are made using high quality, wholesome, plant-based ingredients.