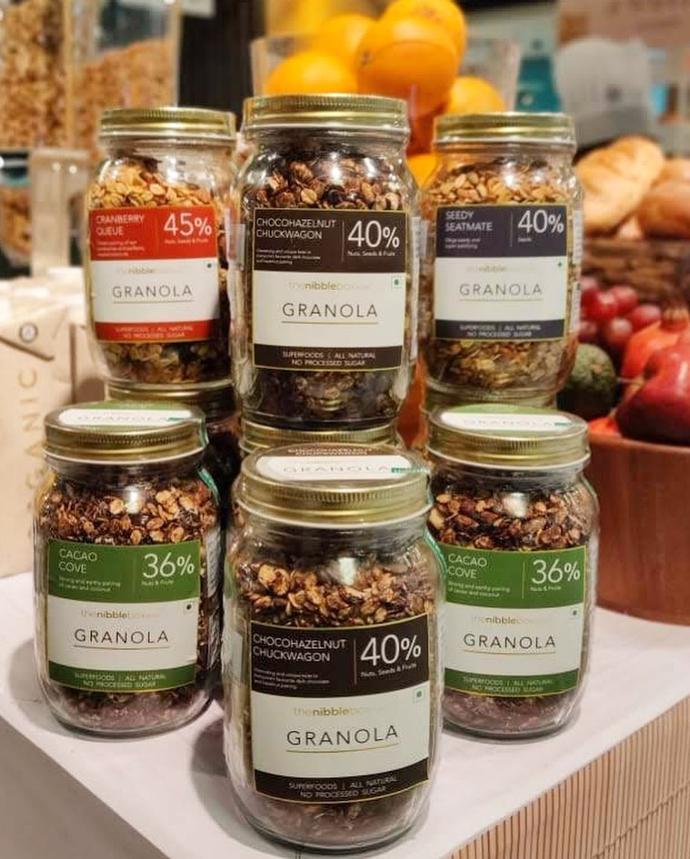 ​The idea of The Nibble Box was conceived in 2013 and the only motive behind creating TNB then was the love for good food. The choice of right ingredients has been at the core of our philosophy while creating every single breakfast and snack at TNB.
All our offerings are plant-based (vegan friendly) and made using wholesome, diverse ingredients. From our experience and from our research over the past decade only tells us that adopting a plant-based lifestyle goes a long way in so many ways viz. addressing to the lifestyle disorders that we face in the stressful times today, in supporting the health of our planet and in taking care of our fellow inhabitants on this planet - animals. We did not start off with 100% plant-based. We experienced a big change in our life and studied in depth before finally making an entire shift for all our then 80+ offerings across our website, e-commerce and retail. We just want to share with you that it is very much possible, enjoyable and health-oriented to adapt to a plant-based lifestyle.

We now have over 150 plant-based options for you spread across 24+ categories ranging from India's favourite Granola to Granola bars, Millet Cereals, Muesli, Pancake/ Waffle mixes, Oatmeal mixes, Beverage mixes, Dry fruit bars (clean-ingredient mithai), Nut Butters, Savoury snacks, Snack mixes, over 20 Baking mixes to all the ingredients that we use in making all these for you.
You will love that all your Breakfast and Snacks are :
• Rich in dry fruit
• Gluten free
• 100% Plant based
• Sweetened using either dried fruit or coconut sugar
• Made using rock salt
• Made with No Artificial Ingredients, No Preservatives, No Additives
• Shipped FRESH BATCH to you (all website orders)



Choose Better Breakfast with thenibblebox.com
Enjoy over 100 plant based, health boosting and nutrient dense breakfasts that are inspired by regional and world culture. Explore a wide range of Granolas, Porridges, Pancakes, Millet Cereals, Mueslis, Oatmeals, Bars, healthful baking mixes, Beverages and many more that you won't find anywhere else. Each breakfast that you find on our website is consciously crafted to make your mornings comforting and convenient.

Daily Breakfast Oatmeal Mix
Make health boosting, delicious, creamy oatmeal in minutes using our ready to use O'meal mixes available in 7 flavours.

Millet Cereal with Zero Added Sugar for Kids
Whole Millets (rich in calcium, iron, protein and plant protein with a rich amino acid profile) are used to make wholesome, deliciously crunchy cereal that we think is one of the first cereals of its kind. Millets are puffed, coated with carefully chosen, nutrient dense, natural ingredients and baked for perfect crunch. The ingredients are what we find in the kitchens of our homes, the very basic ones. Made without any added sugars, using health boosting ingredients, Millet Cereals are gluten free, 100% plant based and incredibly delicious.

Instant Beverage Mixes
Milk Mixes, Hot Chocolates and Plant Milk Concentrates.

Jaggery Coated Nuts
High quality snacks made using health boosting nuts coated in jaggery and spices.
Serve yourself nourishing, new-age breakfast
​Focused on sustained energy all through the day
Gut friendly, brain boosting ingredients
Wholesome, natural and plant based
Gluten free to support gut health
No artificial additives/ preservatives
Aimed at complying with the basic dietary standards
Simple, easy and power breakfast in under 10 minutes
Save your morning time without compromising on quality and nutrition in your breakfast.
Bring café experience home with our connoisseur-level breakfast
Explore a wide range of over 80 breakfast, snacks and beverages
Reduce your baking time by over 85% (bake using our mixes!)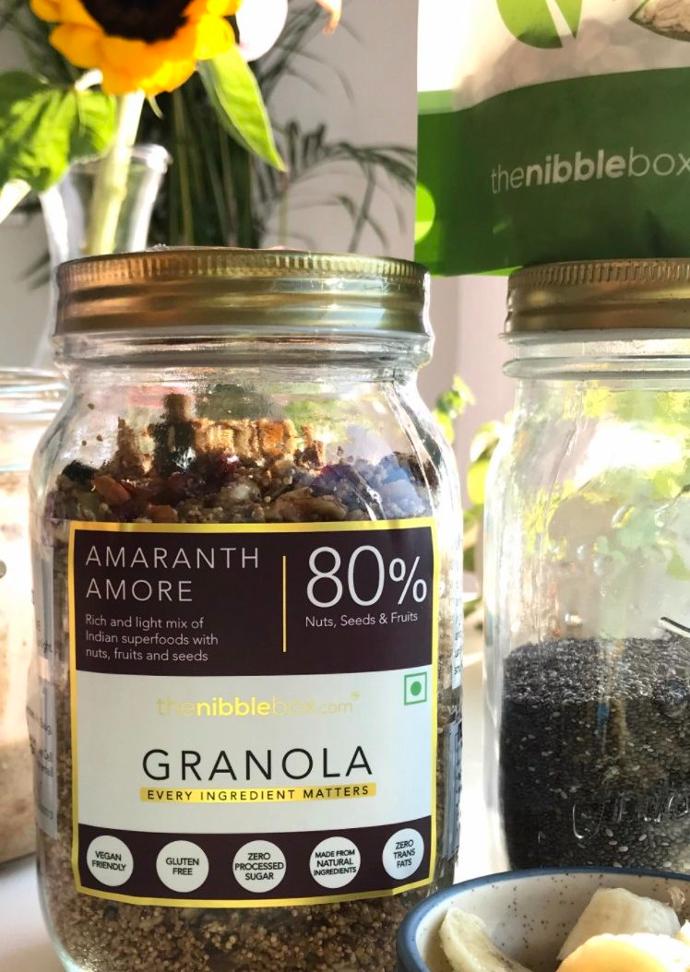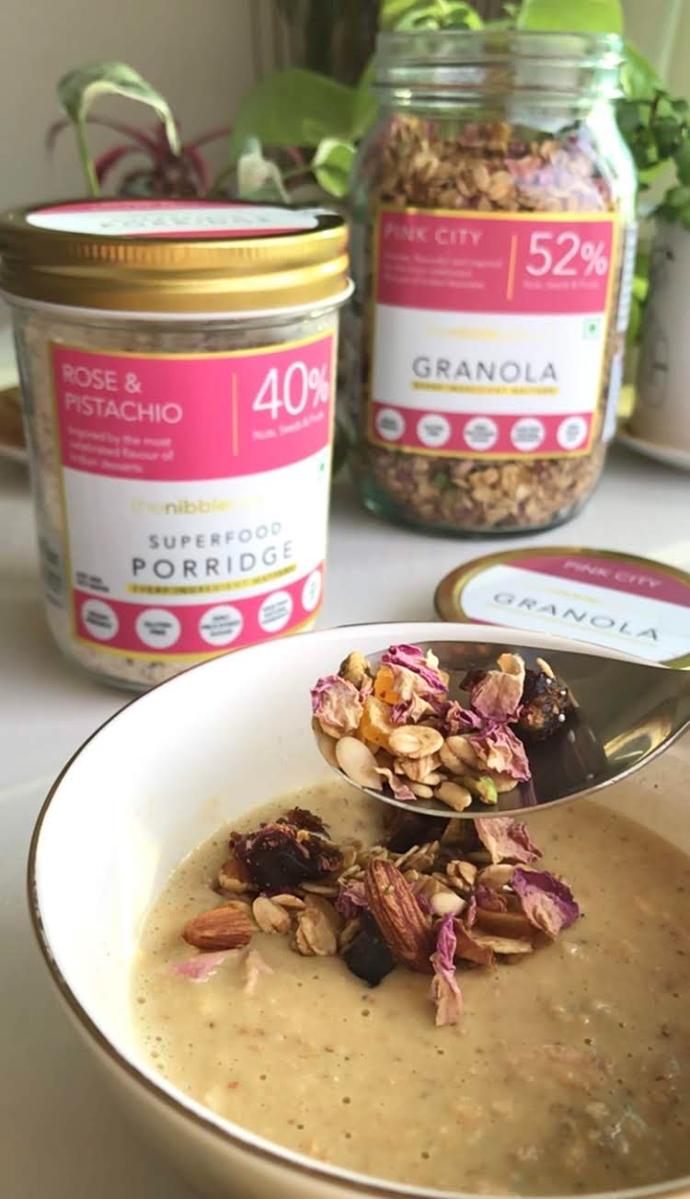 Why do we love to add nuts, seeds and fruits to your breakfast?
Because these are the most trusted, natural, brilliant ingredients for good health and great taste.

Nuts, dried fruits and seeds are known for their proven health benefits. They are not only nature's healthful, nutrient-dense bounty, but also offer a diverse range of taste and flavours.

While nuts and seeds are known for their amazing benefits for good health of your heart, brain and hormones, the dried fruits are known to be naturally very rich in powerful antioxidants.

We ensure that your breakfast and snacks have 40% to 100% of fresh, high quality nuts, fruit and seeds.